Enjoy Life More 
FREE eBook & Masterclasses with Real Answers 
To Heal The Right Root Cause
New & Better Solutions For Anxiety, Depression, Gut Health,  Autoimmune & Thyroid Issues, Inflammation, Weight Gain, & Chronic Illness
Childhood & Generational Trauma Healing Exercises For Better Health & Relationships

Optimal Liver Health, Adrenal Burnout & Hormone Remedies
Voted one of the top 43 naturopaths worldwide, Dr. Ameet Aggarwal helps you heal the right root cause with holistic medicine, homeopathy, trauma healing and family constellations therapy
No spam. Check inbox for free ebook & masterclasses
Voted Top 43 Naturopaths & Featured With
"Dr. Ameet's root cause method has improved the life of many clients - His gift of combining naturopathic medicine, homeopathy, family constellations therapy and healing trauma helps people recover faster with less medicine - Dr. B.M, Naturopath & Therapist
Don't struggle with endless supplements, medicines & therapies
Get Your Free Masterclasses on Happiness, Gut Health, Liver Detox, Trauma Release, Anxiety, Depression, Weight Loss, Hormones, Ancestral Trauma & Family Constellations Therapy & Homeopathy  
No Spam. Check Your Inbox For Free eBook & Masterclasses
"Dr. Ameet gives simple steps to help you recover with natural remedies for anxiety, depression, stress and burnout, and with long-lasting results"
Dr. Hyla Cass MD, Holistic Psychiatrist & Bestselling Author
"I have been having issues with trauma, energy, weight gain, and insomnia. Slowly but surely, as i proceed learn how to improve gut health and heal leaky gut syndrome, along with liver detox, things are improving. Forty some years of issues all being released and flushed from my system!"
Sunny G., Vancouver
"This course helped me heal my weight, skin and mood with natural remedies for leaky gut syndrome, liver detox, adrenal fatigue, anxiety and depression. I also love the emotional healing exercises for healing trauma! So effective!! I don't waste money on excessive supplements anymore!"
Geeta K, Reiki Master
"This holistic medicine course changed my life. I used to be overweight, fatigued very depressed and ached all over. Now I run, have confidence and fixed my adrenal fatigue. Thank you Dr. Ameet for your mind and whole body cure, and adrenal fatigue treatment with homeopathic remedies!"
Sarah B, Holistic Therapist
"I thank Dr. Ameet because he doesn't want to slam pills down your throat, he really wants to know what's going on, whether it's something interior with your organs or something emotional. He really cares about his patients and wants to change the way people think of holistic medicine."
Valentine Holden
"I already saw signs of liver detox working and improved bile flow with Dr. Ameet's courses. How to detox your liver in 3 days was made super simple with his liver detox foods healing leaky gut diet protocol. I feel lighter, my mood has improved and constipation completely gone!"
Beauty and Magic
HEAL THE RIGHT ROOT CAUSE
Your Free eBook & Masterclasses are a FREE START to Dr. Ameet's Complete Mind Body Holistic Medicine Program
Real solutions for anxiety, depression, burnout, insomnia, weight gain, hormones, autoimmune, chronic disease,  relationship issues & self sabotage
No Spam. Check Your Inbox For All Content
Start My Complete Mind-Body Healing Program

On Special This Week

with 50+ Lessons 
YOUR 50+ LESSONS INCLUDE THESE MODULES AND MORE...
MODULE #1
How To Heal From Trauma & Heal Your Mind & Body Together ($250 Value)
Whether you have anxiety, depression, insomnia, weight gain, hormone issues, gut problems or any other condition, unresolved trauma and stress affects your nervous system and neuroplasticity, which affects your gut, liver, hormones, mood, energy, sleep and degenerates your health.
The old way of healing your mind and body separately is keeping you stuck. Get powerful emotional healing exercises and learn:
How to heal your mind so your body heals faster
How to heal from trauma gently and safely
How to release negative thoughts, beliefs and emotional blocks
How to think positively, how to forgive more deeply and improve neuroplasticity
Nutrition and supplements work slowly to improve your health, but never get to the emotional root causes of your issues. You could heal much faster by healing your MIND, EMOTIONS and TRAUMA as well.
START FOR FREE
MODULE #2
How To Improve Gut Health, Heal Leaky Gut Syndrome in 2 Weeks & Foods That Reduce Inflammation ($120 Value)
Certain foods, chemicals, toxins and medicines damage your gut microbiome and cause leaky gut syndrome symptoms and inflammation. Inflammation leads to chronic pain, fatigue, high cortisol levels, acne, eczema, weight gain, anxiety, depression and hormone imbalance.
Courses included:
Natural home remedies, supplements, vitamins, amino acids and foods to heal leaky gut syndrome in 2 weeks
Foods that cause inflammation, hypoallergenic diets and foods that reduce inflammation
How to lower cortisol levels, reduce inflammation and heal your gut microbiome and dysbiosis quickly
All about gut brain axis, neurotransmitters, GABA and serotonin production in the gut, cortisol and thyroid health
START FOR FREE
MODULE #3
How To Detox Your Liver - Foods, Homeopathic Liver Cleanse, Herbs & Supplements ($180 Value)
Most programs ignore how leaky liver health and liver detox affects your mood, hormones, gut health, weight, diabetes, heart health, skin, sleep and thyroid.
Courses included:
Leaky Liver health connection to cancer, thyroid hormones, PMS, progesterone, GABA, insomnia, weight loss, anxiety, depression, heart and chronic diseases
How to detox your liver with the best liver detox foods, herbs, homeopathic remedies and supplements for Phase 1 and Phase 2 liver detox
Homeopathic liver cleanse & signs of liver detox working
START FOR FREE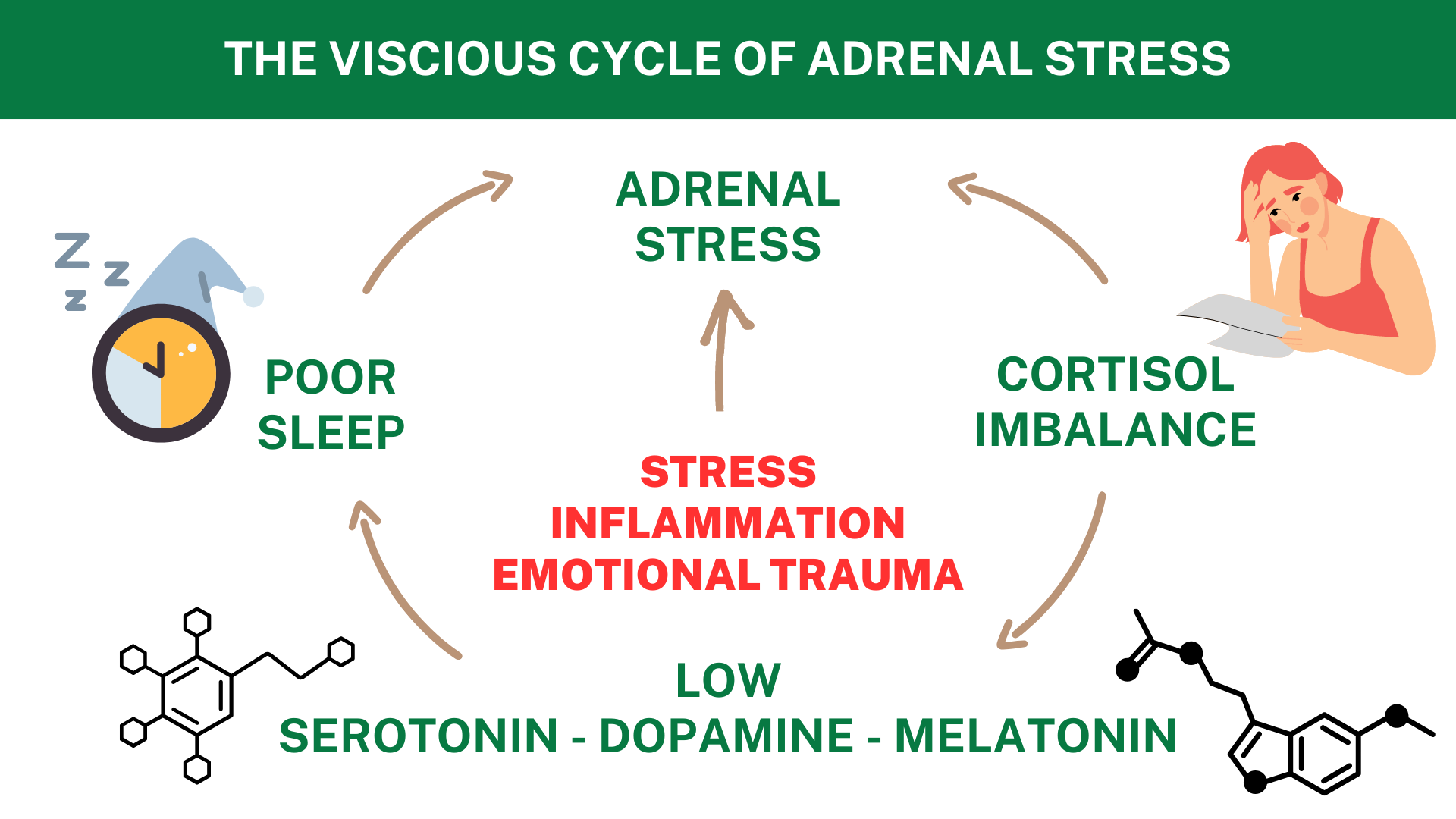 MODULE #4
How To Fix Adrenal Fatigue, Burnout, Anxiety & Depression ($280 Value)
Chronic stress and inflammation cause symptoms of adrenal fatigue, including high cortisol levels, anxiety, depression, burnout, weight gain, low immunity and thyroid hormone problems.
Videos included:
The best adrenal fatigue supplements, diet, herbs and homeopathic remedies
How fixing adrenal fatigue affects treatment of anxiety, depression, thyroid hormones, energy, weight, gut health and sleep.
How to lower cortisol levels with the adrenal fatigue diet and supplements.
Trauma healing, breathing exercises, and meditations to fix adrenal fatigue and your hypothalamus-pituitary-adrenal axis and vagus nerve
START FOR FREE
MODULE #5
Homeopathy, Bach Flowers & Amino Acids For Depression, Anxiety & Trauma ($320 Value)
Homeopathic remedies, Bach flowers and amino acids help specific emotions like grief, sadness, depression, anxiety, guilt, low self esteem, etc. They also help heal trauma.
Videos and Lessons Included:
Homeopathic remedies to heal specific trauma like abuse, breakups, money issues, stress and burnout

Bach flower remedies to heal 33 kinds of emotions like guilt, shame, sadness, confidence and anxiety
Worksheet to help you find your Top 5 remedies for your specific emotions
Amino acids GABA, 5HTP, tryptophan, phenylalanine, tyrosine neurotransmitters, serotonin, endorphins, catecholamines, anxiety, depression, OCD, insomnia and mental health
START FOR FREE
BONUSES
Discount Therapy Sessions

with Our Naturopathic Doctors & Holistic Medicine Practitioners ($Priceless!)
Improve your health with personal sessions to heal leaky gut, detox your liver, heal trauma and other chronic health issues.
Our naturopaths combine iridology, trauma healing, language of the organs, homeopathic liver cleanses and other holistic therapies to heal physical and mental health issues.
These discounts are a 1 time opportunity ONLY when you purchase the full program.
You will also find small parts of Traditional Chinese Medicine and acupuncture points to heal anxiety, depression, adrenal fatigue, burnout and liver health.
START FOR FREE
Family Constellation Therapy Course
Introducing your comprehensive online course in Family Constellations Therapy & Healing Ancestral Trauma
Dive deep into a world where past traumas meet present-day emotions, where ancestral stories intertwine with current narratives, and where you find the power to heal, understand, and chart a new course forward.
Where other courses merely skim the surface, we delve deep and address not just the "how" but the "why," ensuring that you walk away with both knowledge and insight.
Get The
Presale

Discount for Family Constellations Therapy Online Training 

Price goes up soon
You also get my free holistic medicine masterclasses. Check your inbox
Emerge Retreats
Healing & Personal Growth Retreats
Heal emotional wounds

Recover from exhaustion

Reset your nervous system

Reconnect with your higher self

Break away from everyday stressors

Resolve feelings of loneliness, self doubt or burnout.  

 
 You can attend our retreats as an individual or have a retreat tailored for your travel group, safari, or corporate team. 
You Also Get My Free eBook & Masterclasses for Optimal Health
No spam. Check your inbox for free ebook & masterclasses
Consultations with Dr. Ameet & Team
Heal emotionally and physically with personal consultations geared to give you more long term wellbeing
By healing the root cause, you achieve more vibrant health and save money
No spam. You will also receive my free ebook & masterclasses